David M., Property Owner
"Headley Legal Support Services made a daunting eviction process remarkably smooth for me. Their expertise in residential eviction was evident from the beginning. They handled all the legal paperwork and communication with the tenant, allowing me to focus on other important matters. I'm truly grateful for their professionalism andRead more "David M., Property Owner"
David M., Property Owner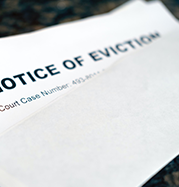 Are you a property owner, property manager, or landlord facing challenges with a tenant who has breached their lease agreement? Look no further! At Headley Legal Support Services, we specialize in providing comprehensive assistance and resources to guide property owners through the residential eviction process in Florida.
Understanding the Florida Eviction Process: Navigating the eviction process can be complex, but our goal is to simplify it for you. Florida has specific laws and regulations governing residential evictions, and being aware of these guidelines is crucial to protect your property rights.
Know Your Rights as a Landlord in Florida: As a landlord, you have specific rights under Florida law when it comes to evicting tenants. We offer detailed insights into landlord rights during the eviction process, explaining the legal requirements for issuing eviction notices and the steps you can take to regain possession of your property.
Seeking Legal Advice: When dealing with a residential eviction, it's wise to consult with a knowledgeable attorney experienced in Florida's eviction laws. We can help you find the best eviction lawyer in Florida to represent your interests and ensure a smooth and efficient eviction process.
The Eviction Process in Florida: We break down the eviction process step by step, from serving the eviction notice to the very end. Learn about the required eviction notice template in Florida, the timeline for an eviction case, and the essential eviction forms needed for the process.
Tips for Landlords and Property Managers: Dealing with evictions can be stressful, but we provide helpful tips and resources for landlords and property managers, including assistance on handling evictions professionally and complying with Florida eviction laws.
Assistance with Florida Evictions: Finding assistance for evictions in Florida doesn't have to be a daunting task. We offer guidance on seeking support during the eviction process, helping landlords and property owners understand their options.
Get Started Today: Whether you're a property owner, property manager, or landlord seeking to enforce your property rights through eviction, Headley Legal Support Services is here to be your reliable partner.